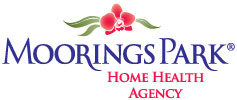 There is no place like home, which is why our caregivers and clinicians come to you to provide simply the best facilities and services for successful aging with professional and compassionate care to each person we serve.
Moorings Park Home Health Agency provides home care services without discrimination with regard to any of the following: patient's race, creed, color, religion, sex, age, national origins, sexual preference, veteran status or disability.
License Numbers
Medicare # 299991484
Private Duty # 299992880

Copyright © Moorings Park Community Health. All rights reserved.